JET Programme – Call for Applicants!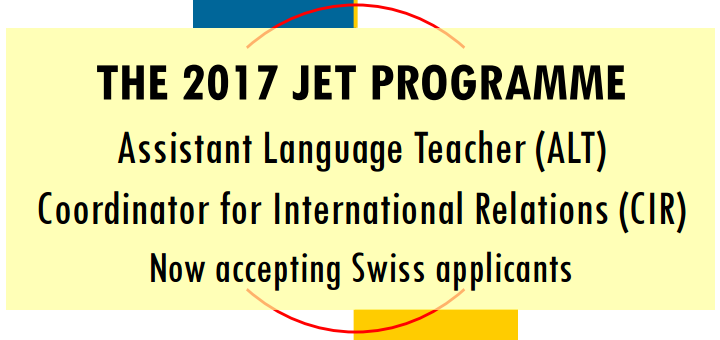 The JET Programme offers young foreign university graduates to work at schools as Assistant Language Teacher (ALT), in local authorities offices (or related organisations) as Coordinator for International Relations (CIR), or as sports coach Sports Exchange Advisor (SEA) for one year (extension possible).
This year one position is available for Swiss applicants.
Recruitment: 1 Coordinator for International Relations (CIR)
Contracting Organisation: Kashiba City (Nara Prefecture)
Placement: Civic Collaboration Department
Arrival in Japan and start of contract: September 13, 2020
Coordinator for International Relations (CIR) will be engaged in internationalisation activities. CIRs are placed in the offices of local authorities or related organisations.
Main duties will be: Assistance in projects related to international activities carried out by the Contracting Organisation. Such activities may include: editing, translating and compiling brochures into a foreign language; assisting in planning, designing and implementing international exchange programmes including international economic exchange programmes; assisting in hosting official guests from abroad and interpreting at events for overseas visitors or for local foreign community residents.
Application Deadline: March 20, 2020
Application documents available: https://www.ch.emb-japan.go.jp/itpr_de/jet_2020.html
Japan Information and Cultural Center
Embassy of Japan in Switzerland
Postfach, 3001 Bern
Tel. +41 (0) 31 305 15 70
jet_flyer_2020
www.ch.emb-japan.go.jp
www.facebook.com/JapaneseEmbassyBern